Sodium Hydro Sulphide Solution 30% ( NaHS)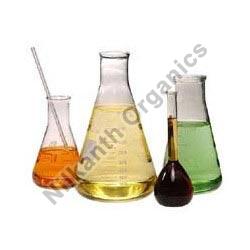 Business Type
Manufacturer, Exporter, Supplier
Application
For removing hairs from hides,floating agent,makeup chemical,eather industry for de-hairing of hides,kraft process,copper mining.
Condition
Good
NaHS Content
30% + 1%
Click to view more
Preferred Buyer From
| | |
| --- | --- |
| Location | Anywhere in India |
Product Details
Molar mass
56.06271 g/mol
Place Of Origin
Mumbai,Maharasthra
We are involved in the manufacturing, exporting, importing and supplying of excellent quality and pure Sodium Hydro Sulphide Solution 30% ( NaHS). We make use of sophisticated machinery and quality chemicals for the processing of our Sodium Hydro Sulphide. Moreover, we offer Sodium Hydro Sulphide Solution in safe packaging and at very nominal rates. Buyers can easily place bulk as well as urgent orders for Sodium Hydro Sulphide Solution with us!
Usage :
For removing hairs from hides
As a floating agent
As a makeup chemical
In the leather industry for de-hairing of hides
As a flotation agent in copper mining
Mainly in paper manufacture as a makeup chemical for sulfur
In the kraft process

Product information :
Other names -  Sodium bisulfide, Sodium sulfhydrate, Sodium hydrogen sulphide nash
Cas number -  16721-80-5
Molecular formula -  NaHS
Molar mass -  56.06271 g/mol
Description -  Pale yellow liquid smells like H2S due to hydrolysis by atmosphere applications

Specification :
NaHS Content -  30% + 1%
Na2S Content -  < 1%
Iron as Fe -  0.20%,
NaOH -  Nil
Ammonia -  Nil
Mercaptans -  Nil

Details :
Sodium hydrosulfide is the chemical compound with the formula NaHS. This compound is the product of the half neutralization of hydrogen sulfide with sodium Hydroxide NaHS is a useful reagent for the synthesis of organic and inorganic sulfur compounds, sometimes as a solid reagent, and more often as an aqueous solution. Solid NaHS is colorless and typically smells like H2S due to hydrolysis by atmospheric moisture. Sodium Hydro Sulphide. We are counted amongst the primesodium hydro sulphide solution ( NaHS ). Manufacturers, Exporters and Suppliers located in India.
Sodium Hydro Sulphide (NaHS) -  Barium process  the leading Sodium Hydro Sulphide (NaSH) Manufacturers India. Sodium hydrosulfide, known by its chemical symbol NaHS (often ... Hydrogen sulfide gas has the characteristic smell of rotten eggs.
Sodium hydrosulfide hydrate for your ... Sodium hydrosulfide monohydrate ... 208043Sodium sulfide nonahydrate.Sodium Hydrosulphide is applied in the leather industry, waste water treatment, soil remediation, the mining industry and pulp paper.Patch clamp studies of neuroblastoma cells have shown that in the presence of sodium hydrogen sulfide, the in vitro precursor of hydrogen sulfide.Sodium hydrogen sulfide is an H2S donor commonly used in cellular and whole animal experimental systems.
producer of sodium hydrogen sulphide in the world. The product is available in solid fused form, in flakes or in an aqueous soln.
Looking for "
Sodium Hydro Sulphide Solution 30% ( NaHS)

" ?
Ton